FieldGuidetoQuilts.com
*

*

Center Patch
Each small icon is a short cut to the block information.

For X stars with center seams, click here:
---
The Priscilla
The Priscilla (1893)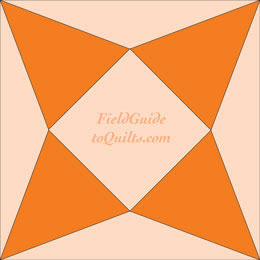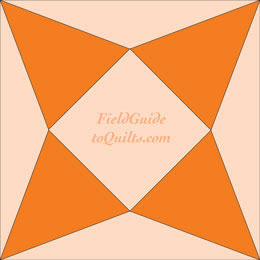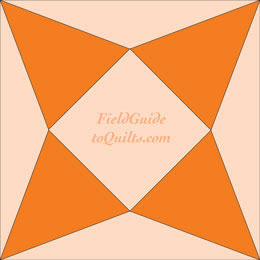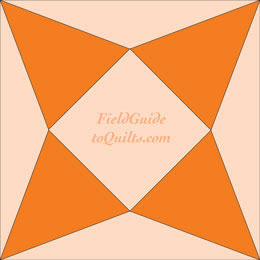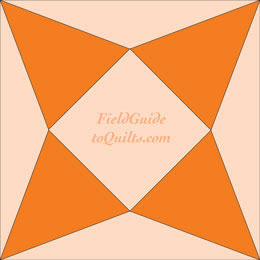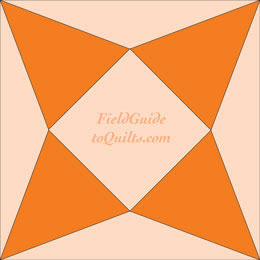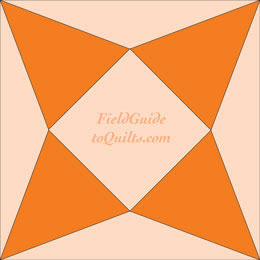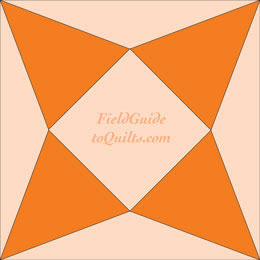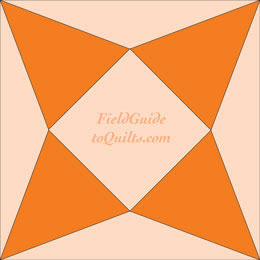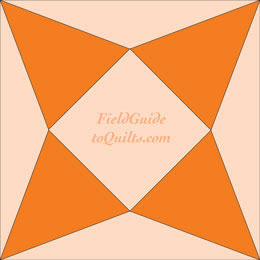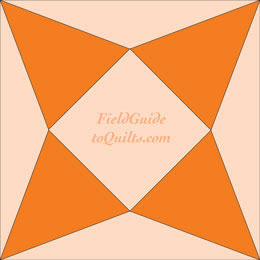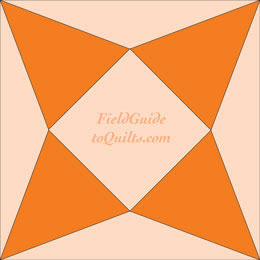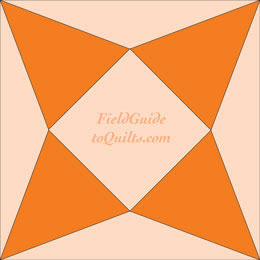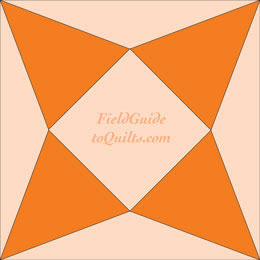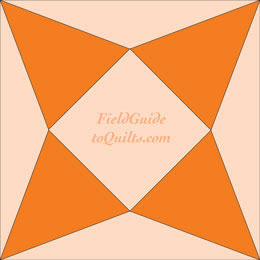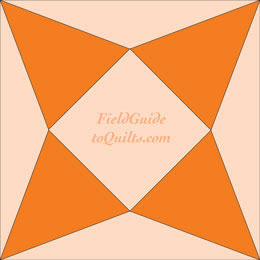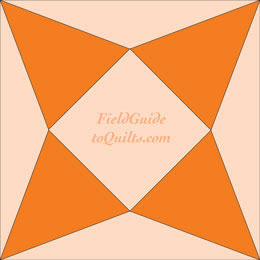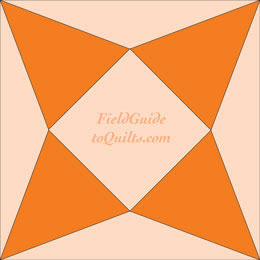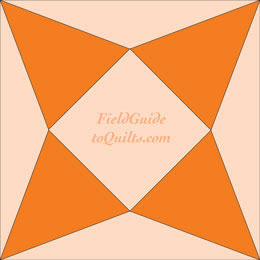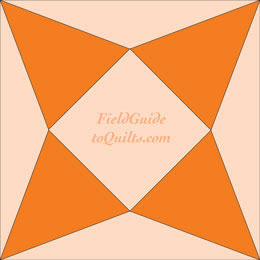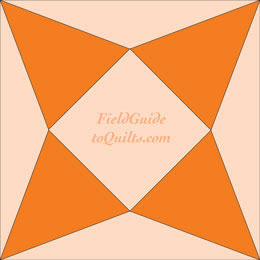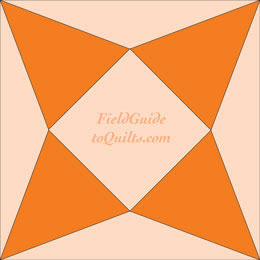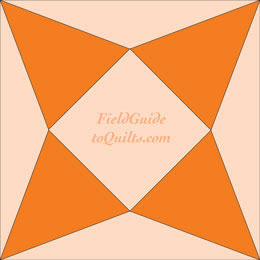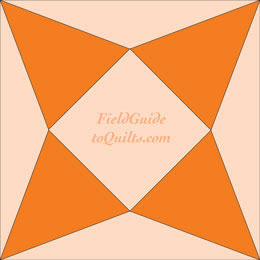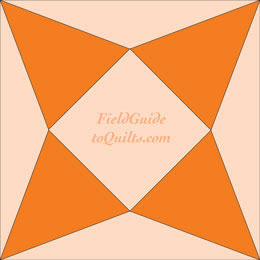 The Priscilla (1897)
The Priscilla
Ladies World
Magazine, 1893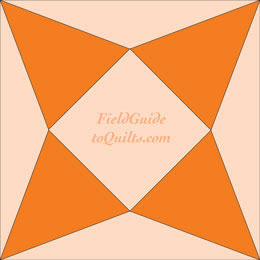 The Priscilla
Ladies Art Co., 1897
World Without End


The Priscilla was first published in Ladies World Magazine in 1893, according to Beyer's Quilter's Album. It was also in the LAC catalog of 1897 (#199). Both blocks are pictured at left. 

Perhaps because both were drawn by hand, the blocks are not quite identical. The 1893 block was laid out on a grid of 14 squares by 14; the 1897, 16 by 16, Beyer says.

Such exactitude would have been out of reach for the turn-of-the-century home quilter. At best, she could buy patterns from the LAC (15 cents each; 12 for $1 in 1928). Or she could buy the LAC's colored cardboard diagram (5 cents; 35 for $1).

Quilting then was still the work of thrifty wives. Many would have measured the graphic and based the block on a 4x4 grid, also called a four-patch.

Most Priscilla variations from the 1920s on tended to be the same wide-point, four-patch stars or narrow-point stars laid out on a 10x10 grid. 
---
Kaleidoscopic Patch
Kaleidoscopic Patch
Ladies Art Co., #386
,
1897
Kaleidoscopic Patch
Cabot, 1934
Kaleidoscopic Patch, LAC
Kaleidoscopic Patch, Cabot

The LAC's Kaleidoscopic Patch (#386, 1897) was nine Priscillas in a single block. Each of those mini-Priscillas was drawn up on a 10x10 grid. 

In 1934, Nancy Cabot used the same nine-patch design for Kaleidoscopic Patch in her Chicago Tribune column, but she drafted each star as a four-patch (4x4). Each small block is identical to a small block of Amethyst, below.

Tippecanoe and Sugar Cone (Gutcheon, James) were also drawn as four-patches. We haven't seen the originals, so we don't know how many colors they had or how many stars were in one block. 

---
Diamond & Star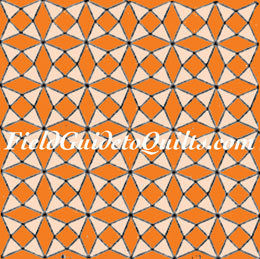 Diamond & Star
Diamond & Star


Ladies Art Co., 1922

Frontier Fiesta

In its 1922 catalog, the LAC published another nine-star block as its #481. Diamond & Star was based on a star grid, according to Jinny Beyer. 

Perhaps the design's complexity encouraged more quilters to buy an LAC pattern. By using star grid, the designer passed on making the block square (the diamond shapes could have been split lengthwise). Instead, the block is a continuous design with a strong familial resemblance to the Priscilla. 

Columnist Nancy Page followed up in 1937 with the identical Frontier Fiesta block (Birmingham News).

---
Priscilla
Priscilla
Priscilla
Hall
1935

World Without End/ Tippecanoe/Sugar Cone

 

This two-color, four-patch star goes by Priscilla and World Without End, names it picked up from Hall's and Kretsinger's The Romance of the Patchwork Quilt in America (1935). The names Tippecanoe and Sugar Cone came along much later (Gutcheon, 1973; James, 1978). 
---
Amethyst
Amethyst


Finley
1929

Crazy Quilt Star/Crazy Star Quilt



When Evelyn Foland's Amethyst was published in the Kansas City Star in 1931, there were three colors and four stars per block. Each star was a four patch. The entire block was laid out on point.

The other names were from other quilt columnists. Alice Beyer of the Detroit Free Press gave us Crazy Quilt Star (1934), and Nancy Cabot came up with Crazy Star Quilt (1935).

The Star also published an octagon with an Amethyst inside. It was called Windmill Star (1934). It was an octagon with the inner, four-point star on point, and is covered with other octagons. Click here:
---
World Without End

World Without End
Finley
1929

Diamond Star/Golden Wedding Ring/Priscilla



The oldest block with the name World Without End was this one with alternating colors, first published by Ruth Finley in her 1929 book Old Patchwork Quilts: And the Women Who Made Them.

It's worth remembering that many two-color blocks were designed for scraps of two intensities — light and dark. While the scraps would make the design less obvious, they couldn't overwhelm the strong, simple pattern.

---
Geometrical/Geometric Star
Geometrical Star (Stone)

Geometric Star (Prize Winning Designs)
Geometrical Star
Stone
1906
Geometric Star
Prize Winning Designs
ca. 1931
Geometric Star
Hall
1935
Geometric Star
Ickes, 1949




The sole difference between Clara Stone's 1906 Geometrical Star and Prize Winning Designs' Geometric Star (ca. 1931) is a pair of seams. Geometric Star has them; Geometrical Star doesn't.

Both blocks are made up of four stars, and each star is a four-patch (laid out on a 4x4 grid).

However, Stone's block is continuous: There is no straight-line division between one star and another. In that, the block is exactly like Diamond and Star (above).

By adding a vertical and a horizontal seam, Prize Winning Designs divided the four-star block into four separate one-star blocks. The whole can be pieced in alternate colors like a World Without End block.

That's not the end of our Geometric(al) stars. There are two more, both based on 12x12 grids, that look quite different from each other.

Carrie Hall published a variation of Geometrical Star in her 1935 book. The proportions made the center larger and the square behind it smaller than any other block inspired by The Priscilla.

Ickes' version, from 1949, looks considerably more like Stone's than like Hall's.


| | |
| --- | --- |
| Geometric Star (Hall) | Geometric Star (Ickes) |
---
Kaleidoscope
| | |
| --- | --- |
| Kaleidoscope | Kaleidoscope -- alternative setting |
Kaleidoscope

Kansas City Star
1930



The Star's Kaleidoscope's half-dark, half-light background make it an even more versatile block than Priscilla for creating whole-quilt patterns. It was published in 1930. 

Another block, also named Kaleidoscope, looks like a propeller but is similar to a four-point star when it is laid out as a whole quilt. Click on this icon to see it: 
---
Hobby Nook
| | |
| --- | --- |
| Hobby Nook | Hobby Nook alternative setting |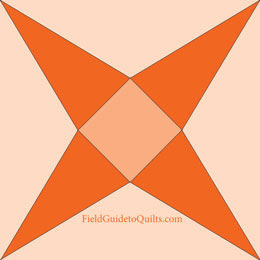 Hobby Nook Kansas City Star
1955

The Hobby Nook block (Kansas City Star, 1955) mimics Kaleidoscope in its proportions (it's drawn on a 10x10 grid) and Amethyst in its color placement.

A similar but more dramatic block style is Crossed Canoes, one of which is identical in proportions to Hobby Nook. Click here to see: 
---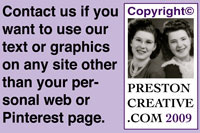 ---