FieldGuidetoQuilts.com

*

Other
These stars stand outside all other categories. That includes one 12-point star: For now, North Star shares this page with other split-point stars. Click on a small graphic below for a shortcut to the block description.
---
Winged 9 Patch
Winged 9 Patch
Winged 9 Patch
Kansas City Star
1940
Winged 9 Patch

This odd little block breaks down into four nine-patch checkerboards (one in each corner), four bowtie blocks (one on each side) and a Sawtooth (in the middle). We've chosen the colors of our graphic to emphasize those sections.

In publishing Winged 9 Patch in 1940, the Kansas City Star noted that the quilter might prefer a "medley of sharply contrasting colors" over its two-color illustration.


---
North Star
North Star
North Star
Laura Wheeler
1940
North Star was designed by the person whose pseudonym was Laura Wheeler. The patterns were sold by mail order by the Old Chelsea Station Needlecraft Company in New York and advertised in newspapers. (Old Chelsea was the name of the post office closest to the company's offices.) This one appeared in the Sioux City Journal in 1940, according to Jinny Beyer's Quilter's Album of Patchwork Patterns.
---
The North Star


























The North Star
The North Star Cincinnati Enquirer
1943

The Divided Star/LeMoyne Star



The North Star was published in the Cincinnati Enquirer in 1943, according to Jinny Beyer. Mrs. Danner's Fourth Quilt Book called it The Divided Star. It's also a variation of the LeMoyne Star. Click here for more LeMoyne variations:
The North Star and Star of the East, just below, look very different as whole quilts, and not just because one has a third color: The North Star is bigger in proportion to the block because of the 22.5-degree difference in their rotations.
---
Star of the East

Star of the East
Star of the East

Grandma Clark
1931

This compass star, published in 1931 in a Grandmother Clark booklet, has just one name, but it shares that name with almost a dozen other blocks. The booklet showed it in solid colors on a print background.

A compass star, or compass rose, is an eight-point star oriented so that each point corresponds with a compass point: North, Northeast, East, Southeast, South, Southwest, West, and Northwest.

In our century, whole-quilt Mariner's Compass designs have become so elaborate that they include more compass points than any navigator really wants to count. They're gorgeous, though. Just take a look by clicking here:

---
Silver & Gold

Silver and Gold

Gold & Silver/Star of the East/Winter Star



Silver & Gold was published in the Kansas City Star in 1931 with the colors arranged as they are at left. The Star also suggested using a 3rd color for the small triangles. Nancy Cabot called it Gold & Silver in 1935, and then Winter Stars in 1938. The name Star of the East is from Carrie Hall.

---
Long-pointed Star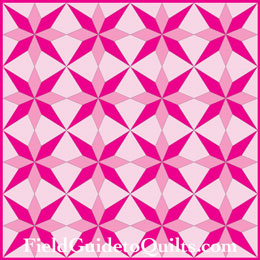 Long-pointed Star
Long-pointed Star
Kansas City Star
1942
Long-pointed Star

This beautiful star, with its two lengths of star points, is drawn up on a circular star grid. It was published in the Kansas City Star in April 1942. It's drawn up on a star grid.

The block shines with high-contrast colors. That's why, we've also shown it here in red, white, and blue.

---
Star of Empire
Star of Empire
Star of Empire


Stone
1906


Clara Stone's Star of Empire is a cousin of the Long-pointed Star, and it's a forerunner of the Cathedral Window quilting that became a trend some 80 years later. Cathedral Window puts a black border around each part of a block, giving it the look of leaded glass.

And what of the bizarre name? We'd guess that it was a reference to the British Empire, which was still strong, and also to a sentiment that because America had British roots, it was still British at heart.

---
Hattie's Choice
Hattie's Choice
Hattie's Choice

Stone
1906

Stone's Hattie's Choice, #70 in her Practical Needlework of 1906, is obviously kin to the Star of Empire, except that it's dressed up and ready for town, with one more layer of concentric shapes. Hattie is short for Harriet, btw.

We've posted both blocks in lavender here because — well, Star of Empire just begs for a royal color, and also, we just felt like it.
---
Star of North Carolina

Star of North Carolina
Star of North Carolina
LAC, #473, 1922
Star of North Carolina

The first Ladies Art Company catalog with pictures, published in 1896, includes the first 400 blocks of the LAC's collection. This block, the LAC's #473, was published in 1922.

Like Jupiter Star below, this star is drawn on a star grid, so that the points all end on a circle. Like Jupiter Star, the block's corners are triangles.

The LAC's block was in two colors. We've added a third for comparison. Which do you like best?

---
Jupiter Star

Jupiter Star
Jupiter Star
Kansas City Star
1934
Star of Jupiter/A Jupiter of Many Points
This block was first published in the Kansas City Star in June 1934 and republished, as the KCS tended to do, in May 1956. This time, however, it was an accidental repeat: The two blocks had two different illustrations and were sent in by two different readers, one from Kansas and one from Oklahoma.

When we drew up the block on the computer, we found that our octagonal center patch was a tad smaller than the one in the KCS illustrations. Apparently you can't emulate the block without either using the KCS pattern or tracing it.

We've since noticed that Jinny Beyer's Quilter's Album of Patchwork Patterns also regularizes the block. We didn't cut apart the pattern pieces and extrapolate the proportions of the pieces from the measurements. We were gardening today and we're just too tired. So let's just say: If Jinny Beyer did it that way, it's okay by us.

If you would like to make your block exactly like the KCS version, click on the "Make It!" icon above.
---
Western Spy
Western Spy
Stone
1906



Western Spy

Clara Stone's curious block works almost as if it is intended to be an octagonal block — quite plausibly, since most octagonal blocks are connected by on-point squares made when four block corners are sewn together.

Western Spy was published in Stone's 1906 booklet Practical Needlework, which says nothing about the origin of the name.

Western Spy looks lovely as a full quilt. It has the look of of a round design, but there is not a single curved seam. We almost put it in our Faux Curve section.
---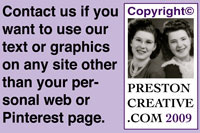 ---