FieldGuidetoQuilts.com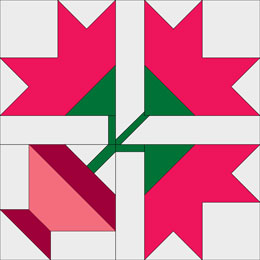 Flowers
***

Flower blocks were, and are, very popular among quilters. We've also posted plants, including the design standout Hosannah. Take a look.



---
Flower Vase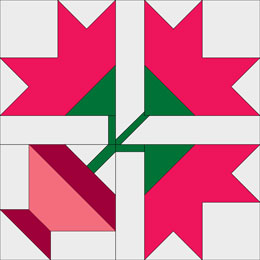 Flower Vase
Page


Chicago Tribune, 1936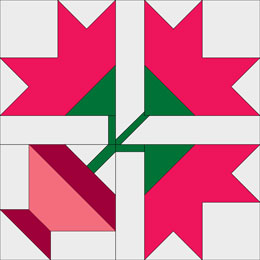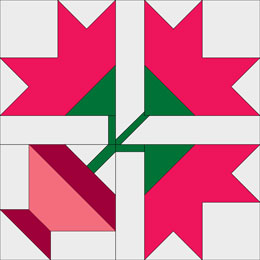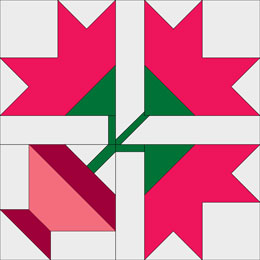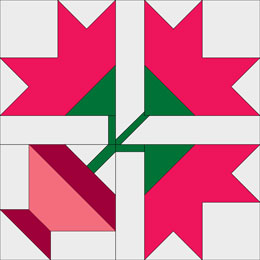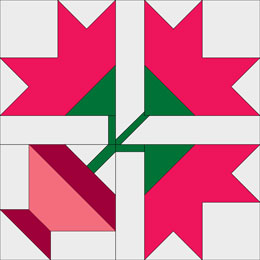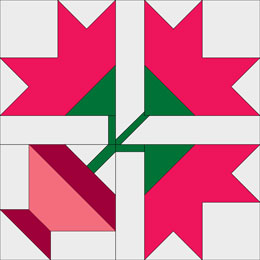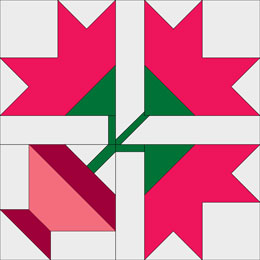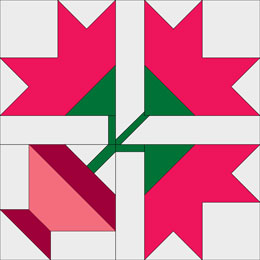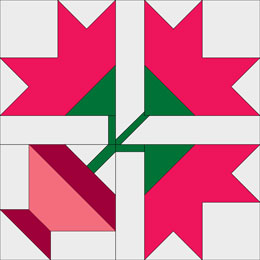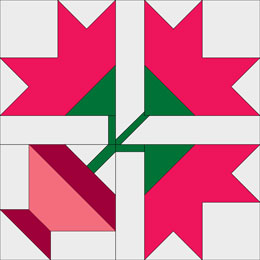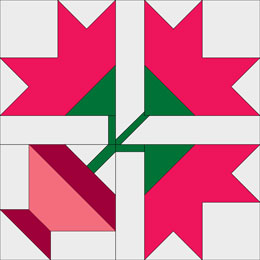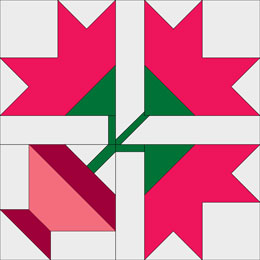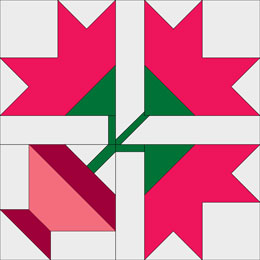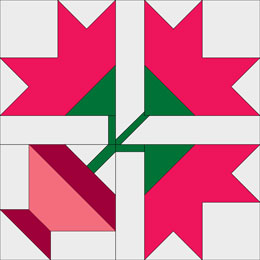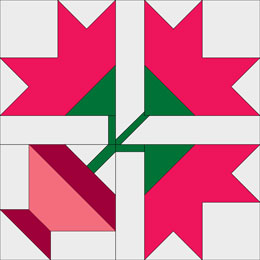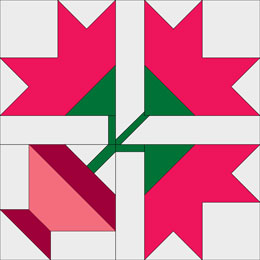 Flower Vase
Flower Vase on point
Flower Vase
Designer Nancy Page (Florence La Ganke) didn't take credit for this 1936 block published in the Chicago Tribune.

The block was so popular, she wrote, that it might once have been used for three out of 20 of a typical family's quilts.

Any one of the blocks with diagonal images can be used for any one of these layouts or as a wide borders.

---
Triple Sunflower
Triple Sunflower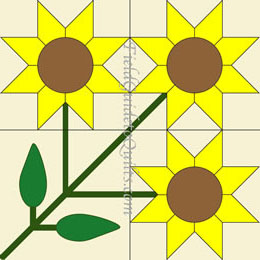 Triple Sunflower
Stone, 1906
Clara Stone's 169th block, collected in Practical Needlework (1906), is one of several sunflower blocks with slightly dissimilar proportions. Stone's is based on a 13 x 13 grid, an oddity we discovered by tracing the block. The stems and leaves are appliqued.

We've included a diagram; click on the icon at upper right.

---
Bluebell
Bluebell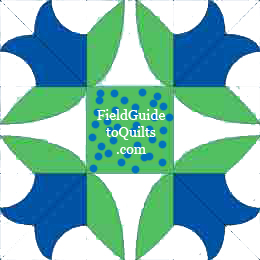 Bluebell
KCS,
The Kansas City Star published this gem.

"For the center square," the KCS said, "Choose either blue or the same material in which the leaves were developed." The illustration, however, shows a print.

The block's curved pieces (all pieced rather than appliquéd) were actually a tad more slender than we've shown it here.

---
Springtime
Springtime
Detroit Free Press,
1933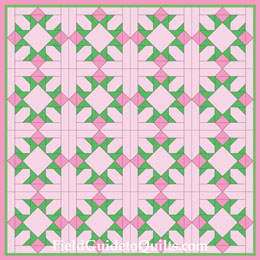 Springtime
From the Detroit Free Press' Book No. 6, (1933), per Jinny Beyer's beautiful
Quilter's Album of Patchwork Patterns
(2009).
We don't know the block's original coloring, so we've chosen light shades that show the seam lines.
---
Noon Day Lily

Noon Day Lily
Noon Day Lily
Ladies Art Company
#51, 1897
The Ladies Art Company offered its #51, Noon Day Lily, in 1897.
At least, that's the date we're using, the year the company offered its first complete catalog of blocks.
In fact, the LAC had been in business for a couple of decades, and the company had already produced hundreds of blocks that appeared in the catalog.

There was a catalog earlier in the 1890s, or so we hear, but before that, the designs were placed piecemeal in various publications, Capper's, among them. Librarians call these journals and newspapers "ephemera" for a good reason. Today, we don't know where or when most of the blocks first appeared in print. That's why, on this site, the date of the first LAC blocks is 1897, as if all 400 blocks had emerged from the forehead of Zeus in a single year.

The LAC's last catalog was published in 1928. By then, the LAC's blocks had been picked up and used in any number of syndicated newspapers and ... well, ephemera. The catalogs had all been copyrighted, but that didn't slow anybody down. At its height, the company employed 50 people, according to Connie Chunn, who is as obsessed with the LAC as we are with this site. The history page on her site is here:


Moving along, the Noon Day Lily block was published in two colors—as we've shown it here, but with a white background.

The block is recognizable by its parallelogram petals, stem, and pair of leaves. The appliquéd pieces—the stems and leaves—may vary in placement, shape, and so forth. The pieced flower heads do not.
North Carolina Lily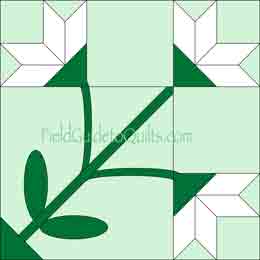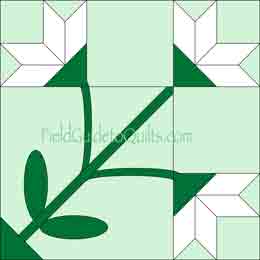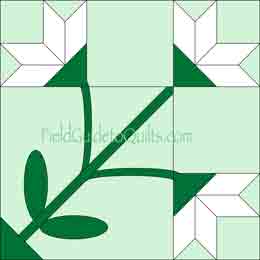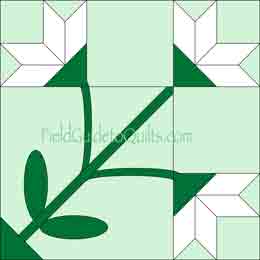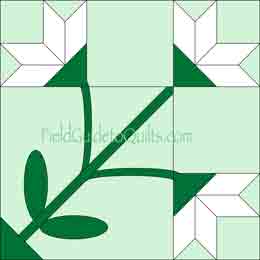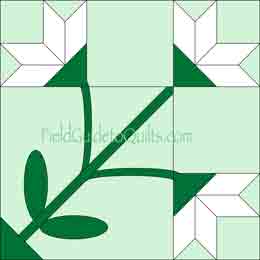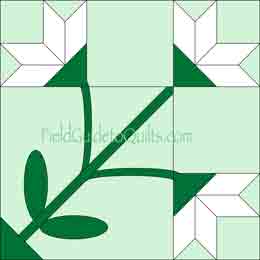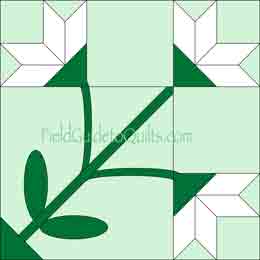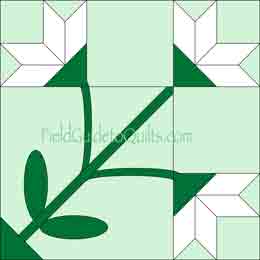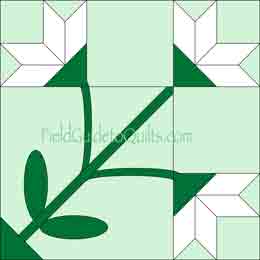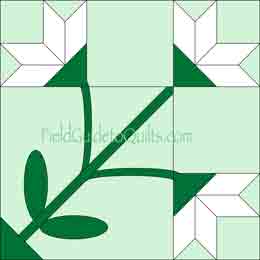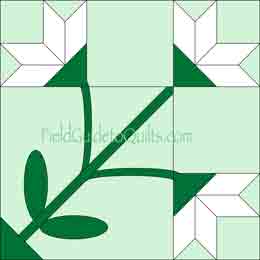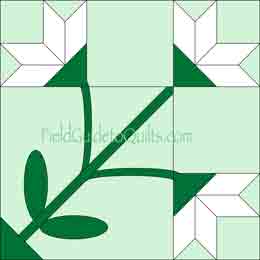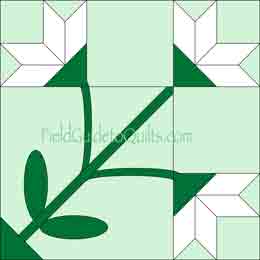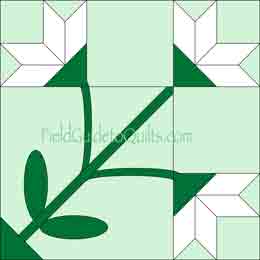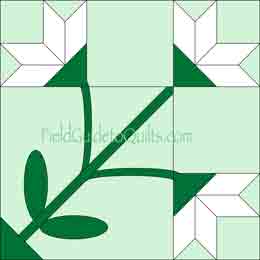 North Carolina Lily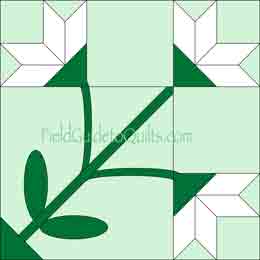 North Carolina Lily
Hall, 1935
Wood Lily, Meadow Lily, Mountain Lily, Fire Lily, Mountain Lily, Noon-Day Lily
This variation of the Noon Day Lily had quite a few miles on it by 1929, when author Ruth Finley wrote that she had found the block in six different places, each time under a local name.

It was called Wood Lily in the Northeast; Meadow Lily in Connecticut; Mountain Lily in Tennessee and Kentucky; Fire Lily in Ohio and Illinois; and Mountain Lily or Noon-Day Lily elsewhere in the midwest.

We've pictured the North Carolina Lily as seamstress Carrie Hall stitched in the 1930s. That block is now part of the Spencer Museum of Art at the University of Kansas.



North Carolina Lily variation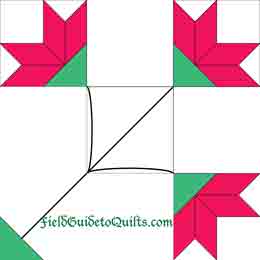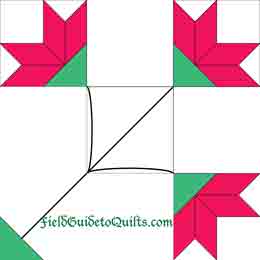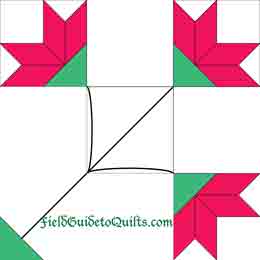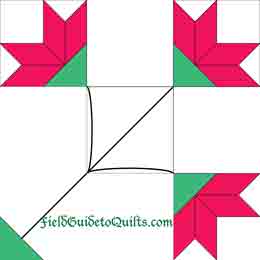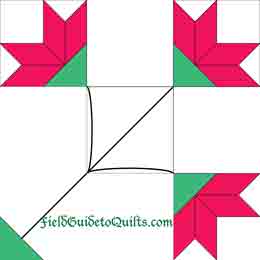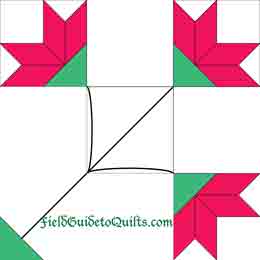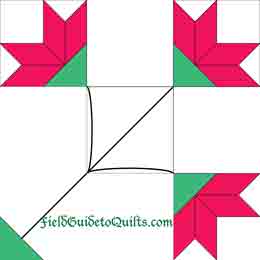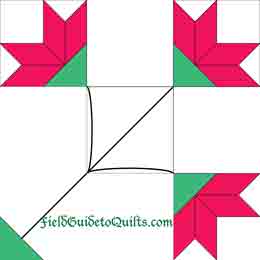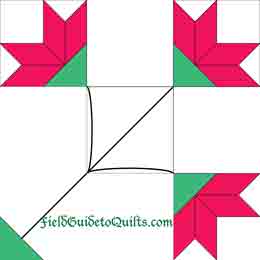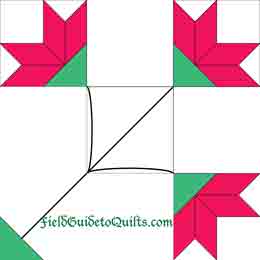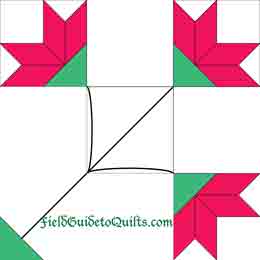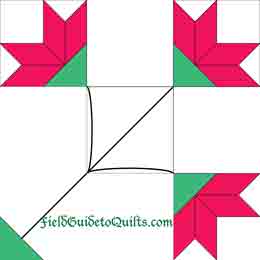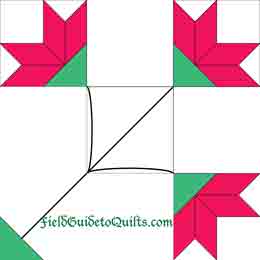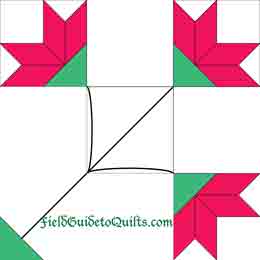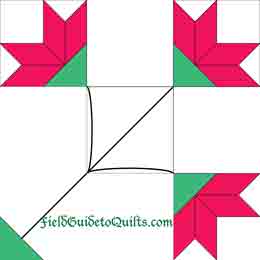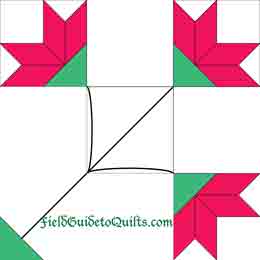 North Carolina Lily variation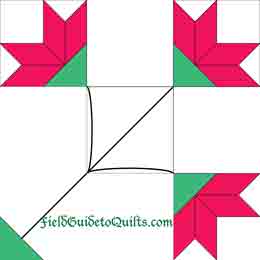 North Carolina Lily
variation
Malone, 2003
A leafless variation appeared in 5,500 Quilt Block Designs by Maggie Malone (2003).

Malone's version has the flowers in white on a white background; we've added color to make them more visible. Click on the "Make It!" icon for a diagram.
---
Magnolia Bud
Magnolia Bud (KCS)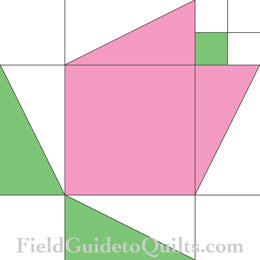 Magnolia Bud


KCS, 1932

Magnolia Bud is a Kansas City Star block credited to Eveline Foland. It was first published in March 1932, during the first weeks of President Franklin D. Roosevelt's administration.


Magnolia Bud


Hall, 1935

The Star, then, may have been a source for Carrie Hall when she included it in The Romance of the Patchwork Quilt in America in 1935.

While the Star's version is based on an 8x8 grid, Hall's version, according to Jinny Beyer and her Quilter's Album (2009), is on a 7x7 grid.

Can you tell the difference? It's minor, but it's there.



---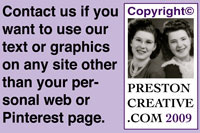 ---