FieldGuidetoQuilts.com
Shoofly-style block diagrams
We haven't found these blocks' instructions on the Web, so we've posted diagrams here. To make a block, take a screenshot and print it out in the size you want. Cut the printout on the solid lines to get the pattern pieces, then
add a 1/4" seam allowance
when you cut the fabric.
A Dandy
---
A Dandy
Make each of the nine parts separately before assembling the block. Don't forget to add seam allowances! We've put the small triangles in gray so that you can also use this pattern for a Shoofly block. If you're making a Shoofly, just ignore the small triangles altogether.
---
Joseph's Coat
This is Finley's version of the block from 1929.

Cut 8 each of pieces 1a and 1b in Fabric 1
Cut 4 each of pieces 2 and 3 in Fabric 1
Cut 1 of piece 4 in Fabric 1
Cut 4 of piece 5 in Fabric 2
Cut 12 of piece 7 in Fabric 3

To assemble this, we'd make each of the nine mini-blocks separately, then connect them into rows of three. Sew the rows together and you're done!


---
Cross & Crown


You can use this diagram for both the Kansas City Star and the Ladies Art Company variations of Cross & Crown. Take a look at the heavy dashed lines in each corner block. Those are seamlines, and if you put a seam there you've got the Star's block from 1929. If you ignore the seam, you've got the LAC's block from 1897.


---
Fanny's Fan


To accommodate the offbeat angles in each corner, we laid out our diagram on a 40 x 40 grid. Doesn't that just kill ya? Well, it almost killed us.



---
Fannie's Fan


The block is laid out on a 10 x 10 grid, just like Cross & Crown.


---
Triangles & Stripes


The layout is on an 8x8 grid, but you already knew that just from looking at it. The rule of thumb for block assembly applies here: Start from the inside and work outward. Take the inner square and add triangles and iron it; add the next four triangles and iron that. We'd make the last part by adding just the two-color rectangles on top and bottom and making the triangle-and-bar sections separately before adding them to the rest of the block. But you can make it any way you want.


---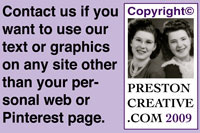 ---